I discovered a new author... the cover of The CEO definitely sucked me in! It was a good read and I hope to try more of Shealy's work in the future!
Series: The Game Changers #1
Genre: Contemporary Romance
Eve Bryant finds herself moving across the country with only one goal—to rediscover herself and get her life back on track…

Leaving a disastrous marriage, she swears off men and relationships, but when she meets sexy, charismatic Grant Mitchell, her new rules fly right out the window.

Grant is a born and bred businessman, and he always gets what he wants…

The moment he lays eyes on Eve, Grant is determined she will be his. She's different from other women he knows—too stiff, too prim—but her smile pierces his heart and he longs to see what she's like when she lets her hair down. They discover a powerful and undeniable connection, leading to a fast moving relationship that leaves Eve whirling in its wake.

The odds are stacked against them, and trust is hard to come by.

A woman scorned, a troubled ex-husband, and a mother bent on orchestrating her son's future to suit her own agenda make for a very rocky road. The new couple may not last, no matter how strong their feelings for each other are. Grant is willing to fight to keep Eve in his life, but after recent events, Eve isn't sure she has any fight left to give.

Will outside forces drive Eve and Grant apart? Or will they learn there's no love greater than the one you fight the hardest to keep?
I read a snippet of The CEO and decided to give
Shealy James
–
a new-to-me author
–
a try. The blurb caught my attention and I was eager to see what happened between Eve and the man in the three piece suit. It ended up being a good read, dealing with some difficult decisions that no woman should have to experience.
I really liked Grant, he was definitely my favourite character from this book. He was confident, sexy and rich, but he never really acted like he was better than everyone. He was willing to pursue Eve and he had that whole alpha male vibe. He found it difficult when she kept rejecting his advances but he never gave up. I liked how supportive he was, and when Eve would pull away from him he would chase her down and pull her back.
Eve was a little harder to connect to. In the beginning she was strong, by leaving her husband and the only life she knew. She then moved across the country to put some distance between her old life and her new one by starting a job with one of her closest friends. Even when she met the strange sexy man, she wasn't willing to cave to his demands immediately, and I liked her feistiness. She kind of changed after that, and she would go with him, and then pull away over and over, and wasn't the stong character she believed herself to be. Although she'd been married before, she found it hard to let Grant in, which is understandable, but she seemed to cause drama that wasn't needed, especially from someone who's thirty years old (I could probably understand it if she was an immature young adult). Even towards the end, she was quick to run instead of facing her insecurities; she wanted to deal with her past by herself instead of allowing those closest to her support her. I get it, she wants to do some things on her own and be her own woman, but part of being in a relationship also means accepting help and working as a team. And some of her issues actually involved her family but she made it all about her...
Eve and Grant had a fast and passionate connection. They were comfortable with each other, every moment they spent together made their relationship stronger. Certain aspects of their relationship were a little strained as they were from two different worlds, and Grant's parents were not very supportive. But somehow they managed to be together and work through their hurdles.
Although I usually enjoy stories from the first person perspective, this story fell a little flat to me due to being told about a lot of experiences instead of getting to experience them. To build a connection to a character I like to feel what they are going through, so meeting new people would be one of those times, like Nolan. Eve has a strong friendship with Nolan that I would've liked to see more of. If you like a good romance, without going overboard with dialogue, you will like this one.
Here is a taste of Grant's alpha-male side!!

"Just ask me to get in the car and go to dinner with you. Don't tell me. Don't command me. Ask me and see what happens."
After a deep sigh, he gritted his teeth and said, "Eve, will you please get in the car and have dinner with me?"
As seriously as I could, I teased, "I already have plans tonight but maybe another time."
He growled and then picked me up and set me in his dark grey Range Rover. Growled! He buckled my seatbelt and said, "Stay put," before slamming the door.

Kindle Arc Loc 476



Hosted by Anna @

Herding Cats & Burning Soup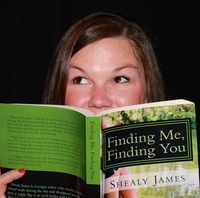 Shealy James is a Georgia native who teaches middle school by day and
disappears into the world of fiction at night. She is an avid reader and writer who hopes to one day write full time and leave the world of middle school angst behind. A sucker for love and happy endings, Shealy likes to combine humor and drama to create stories that are both emotional as well as entertaining. Shealy lives her real-life romance everyday with her husband and new baby girl.