I NEED MORE NOW!! Feyre is such a great character to read about! I love being in this world and seeing what they all are going through. It was an exciting journey!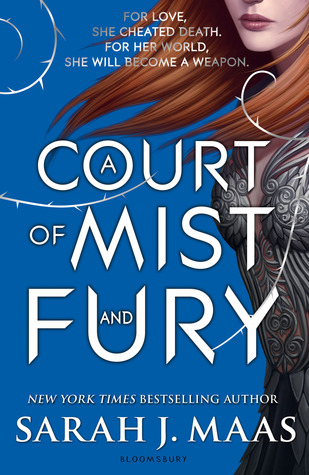 Title: A Court of Mist and Fury
Series: A Court of Thorns and Roses #2
Genre: NA Fantasy/Romance
Feyre is immortal.

After rescuing her lover Tamlin from a wicked Faerie Queen, she returns to the Spring Court possessing the powers of the High Fae. But Feyre cannot forget the terrible deeds she performed to save Tamlin's people - nor the bargain she made with Rhysand, High Lord of the feared Night Court.

As Feyre is drawn ever deeper into Rhysand's dark web of politics and passion, war is looming and an evil far greater than any queen threatens to destroy everything Feyre has fought for. She must confront her past, embrace her gifts and decide her fate.

She must surrender her heart to heal a world torn in two.
It has been a long year of waiting, but
A Court of Mist and Fury has finally hit the shelves, and I couldn't be any more excited to get my hands on a copy. I loved A Court of Thorns and Roses, and was curious to see what would happen next for Feyre, how she would adapt to her new life, would she be happy with Tamlin and what would happen with the bargain she made with Rhysland.
Then I got my hands on the brick, I mean the book of 624 pages… but I tell you it was worth every minute of reading! Feyre struggled in the beginning, not knowing what to do and being left out of a lot of decisions. Tamlin and Lucien were trying to protect her as best as they knew how. I actually felt bad for her, seeing her sad and kind of coasting through life. However, there soon was plenty of growth for Feyre as a person as she finally figured out who she was and what she could do. Some relationships she built were strained, others grew stronger and she built new friendships with people who she considered family.
However, the King of Hybern looked as though he wanted to start war and to bring down the wall that separated the mortal and faerie realms. Feyre had to decide whether or not to help and how far she was willing to sacrifice herself – again – to save those she loved. So it was a busy time for those involved as Feyre grew, they travelled to and from the mortal realm, as well as other courts to get what they needed.
I loved being back in the faerie realm once again! It was great to see other courts and how they had rebuilt after the devastation that occurred in the last 50 years. I liked meeting knew characters and seeing how they fit in other courts. I enjoyed the direction that the romance took in this book too, it was full on sexual tension! I was kind of on the fence before I started, but seeing people in this book a little differently, I liked how it ended up. In the end, it was an action packed, tension building instalment that was highly addictive. The story is far from over and now I need to wait another year to see what happens next!
I have two quotes from the book today. The first one is what someone (deliberately not telling you who) will do to get Feyre back, and the second a new character standing up for Feyre.

"Did you think I would go with him?"
He paused mid-bite, then lowered his fork. "I heard every word between you. I knew you could take care of yourself, and yet..." He went back to his pie, swallowing a bite before continuing. "And yet I found myself deciding that if you took his hand, I would find a way to live with it. It would be your choice."
I sipped from my wine. "And if he had grabbed me?"
There was nothing but uncompromising will in his eyes. "Then I would have torn apart the world to get you back."

Paperback Page 469

Nesta shifted her attention to Cassian, noticing that gleam—what it meant. She snarled softly, "What are you looking at?"
Cassian's brows rose—little amusement to be found now. "Someone who let her youngest sister risk her life every day in the woods while she did nothing. Someone who let a fourteen-year-old child go out into that forest, so close to the wall." My face began heating, and I opened my mouth. To say what, I didn't know. "Your sister died—died to save my people. She is willing to do so again to protect you from war. So don't expect me to sit here with my mouth shut while you sneer at her for a choice she did not get to make—and insult my people in the process."

Paperback Page 255



Hosted by Anna @

Herding Cats & Burning Soup



Sarah J. Maas is the author of the New York Times, USA Today, and
internationally bestselling Throne of Glass series–
Throne of Glass, Crown of Midnight, and Heir of Fire,
and the series' prequel,
The Assassin's Blade
–as well as the
New York Times
and
USA Today
bestselling
A Court of Thorns and Roses
. She wrote the first incarnation of the Throne of Glass series when she was just sixteen, and it has now sold in twenty-three languages.
Queen of Shadows
, the fourth book in the Throne of Glass series, will release worldwide on September 1st, 2015.

A New York native, Sarah currently lives in Pennsylvania with her husband and dog. She graduated Magna Cum Laude from Hamilton College in 2008 with a degree in Creative Writing and a minor in Religious Studies.