Hehehe... Smut, what a title, and written by Karina Halle, should be fun!
Lili St. Germain blows my mind with her dark writing, Gun Shy is a must read for me!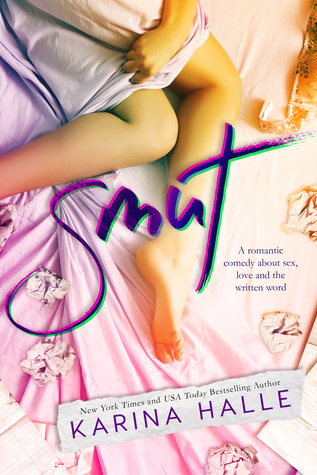 Genre: Contemporary Romance
Expected Publication: May 9th 2016
What happens when the kink between the pages leads to heat between the sheets?

All Blake Crawford wants is to pass his creative writing course, get his university degree and take over his dad's ailing family business. What Amanda Newland wants is to graduate at the top of her class, as well as finally finish her novel and prove to her family that writing is a respectful career.

What Blake and Amanda don't want is to be paired up with each other for their final project but that's exactly what they both get when they're forced to collaborate on a writing piece. Since Amanda thinks Blake is a pushy asshole (with a panty-melting smirk and British accent) and Blake thinks Amanda has a stick up her ass (though it's brilliant ass), they fight tooth and nail until they discover they write well together. They also might find each other really attractive, but that's neither here nor there.

When their writing project turns out to be a success, the two of them decide to start up a secret partnership together using a pen name, infiltrating the self-publishing market in the lucrative genre of erotica. Naturally, with so much heat and passion between the pages, it's not long before their dirty words become a dirty reality. Sure, they still fight a lot but at least there's make-up sex now.

But even as they start to fall hard for each other, will their burgeoning relationship survive if their scandalous secret is exposed or are happily-ever-afters just a work of fiction?
Genre: Romantic psychological thriller
Expected Publication: May 10th 2016
A standalone romantic psychological thriller.

There are two thousand people living in Gun Creek, Nevada.
Only one of them knows what really happened that night.

One year ago, my boyfriend almost killed my mother.
One year ago, my stepfather became my legal guardian.
One year ago, my whole world ended.
The boy I loved was the boy who ended my world; Leo drank too much, got behind the wheel and smashed his car into my mother's as she drove home from work. I believe him when he says it was an accident, but there's only so much you can forgive when you've seen your mother laid out on a hospital gurney, all pale skin and damp hair from where they've tried to wash the blood away. There's only so much you can forgive as you watch a nurse feed her through a feeding tube, because your mother has turned into a ghost.

There's only so much you can forgive when your stepfather—the untouchable town Sheriff—moves into your bedroom and forces you to fulfill his every dark desire.

Yesterday the mailman handed me a letter from the prison where Leo's being held. Leo's getting out. The boy who stole my mother and thrust me into this hell? He gets to walk free after one lousy year. He gets to move on with his life, and start again, and I'm trapped in this nightmare that never seems to end.

One year ago, my boyfriend almost killed my mother.
One year ago, my stepfather became my legal guardian.
One year ago, my whole world ended.
Waiting on Wednesday is a weekly meme hosted by Jill @ Breaking the Spine where I have the chance to spotlight upcoming releases that I'm eagerly anticipating.