I have picked two interesting books this week, an Wizard of Oz retelling and a Dark Suspense... both will be fun for sure!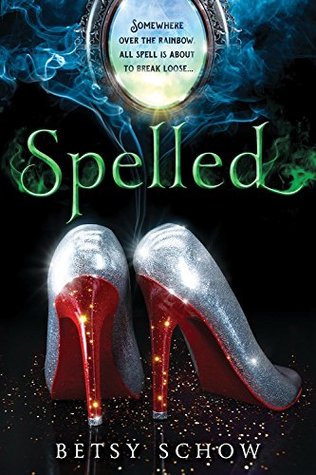 Genre: YA Fantasy Retelling
Expected Publication: June 2nd 2015
Fairy Tale Survival Rule #32: If you find yourself at the mercy of a wicked witch, sing a romantic ballad and wait for your Prince Charming to save the day.

Yeah, no thanks. Dorthea is completely princed out. Sure being the crown princess of Emerald has its perks—like Glenda Original ball gowns and Hans Christian Louboutin heels. But a forced marriage to the brooding prince Kato is so not what Dorthea had in mind for her enchanted future.

Talk about unhappily ever after.

Trying to fix her prince problem by wishing on a (cursed) star royally backfires, leaving the kingdom in chaos and her parents stuck in some place called "Kansas." Now it's up to Dorthea and her pixed off prince to find the mysterious Wizard of Oz and undo the curse...before it releases the wickedest witch of all and spells The End for the world of Story.
Genre: Dark Romantic Suspense
Expected Publication: June 2015
The only sure way to destroy a man is to take what he cannot live without.

Three years ago, I had everything.

A beautiful wife.
A son.
A reason for living.

Until a ruthless task force, assembled under Mayor Michael Culling, with a brutal strategy to make the streets of Detroit 'safe', ripped away everything I loved in a deadly hunt called The Culling.

They tried to kill me, too. I wish they had. Now I'm cursed by the memories of that night, and the words I whispered to my dying wife.

A promise—to avenge the wrong and set it right.

I'm no longer Nick Ryder. I'm a masked vigilante. Faceless. Loveless. Fearless. A man with nothing left to lose—one who's seen the dark and violent truth behind the city's flawless veneer.

Michael Culling doesn't know who I am. Or what I want. All he knows is that I've kidnapped his beautiful wife.

An eye for an eye—isn't that how the saying goes? And Aubree Culling is the perfect pawn to destroy him.

If she doesn't destroy me first.
Waiting on Wednesday is a weekly meme hosted by Jill @ Breaking the Spine where I have the chance to spotlight upcoming releases that I'm eagerly anticipating.