Genre: NA Contemporary Romance
Published: May 20th 2014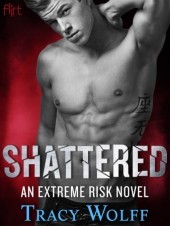 I just love Tracy Wolff and this Extreme Risk series! This was such a sweet read and I can't wait for the next book!
When there really is no more oxygen and she's making low, needy sounds deep in her throat, I force myself to pull back. Tansy moans, clings to me, her lips desperately seeking to connect with mine again.
It's all the invitation I need.
I slam my mouth down on hers again for one last taste, then—panting—skim my lips across her cheek, down her jaw. I lick a little at the sensitive skin just beneath her ear, press soft, warm kisses down her neck until I find myself at the delicate hollow of her throat.
~ Kindle Arc Loc 2143
My review will be on the blog Friday!
The Extreme Risk series—Tracy Wolff's edgy, emotional take on the New Adult genre—continues with the story of a lost soul and the fearless beauty who inspires him to take a flying leap back into life.

Ash Lewis has poured every last ounce of his blood, sweat, and tears into reaching the very top of the professional snowboarding world—until the unthinkable happens. After the biggest competition win of his career, Ash's mother and father are killed in a tragic accident. Unable to handle the idea of going back out on the snow to pursue the dream his parents shared with him, Ash feels that he has no choice but to walk away from snowboarding forever. Then he meets Tansy Hampton.

Wild, fun, and impulsive, Tansy has a different look and a new passion every week. As a cancer survivor who spent the past several years waiting to die, Tansy has a fresh perspective on life—even if she doesn't have a clue about what she actually wants to do with it. But she's determined to find out, and that means making the most of her time while she still can.

From the very beginning, their chemistry is intense. But while Ash can't stop chasing the ghosts of what can never be, Tansy stays firmly focused on the possibilities the world holds for her—and for them. She's already picked up the pieces of one shattered life. Now she's determined to help Ash do the same.

From the book you're currently reading, or one you just finished, tell us what made you SWOON. What got your heart pounding, your skin tingling, and your stomach fluttering.

Shout it out on Twitter with the hashtag #YABound, post it here in the comments, or grab the adorable button above and share it on your blog! I want to know & so do the chicks at YABound!
Did you get swooned this week? Please leave a comment below with your Swoon link so I can check out yours too!!
Thanks for stopping by and have a great Thursday!!