This was a fun beginning to a series that I can't wait to get more of! It was intense, and I loved how even though Teague and Calli were thrust into the marriage, they actually fell for one another.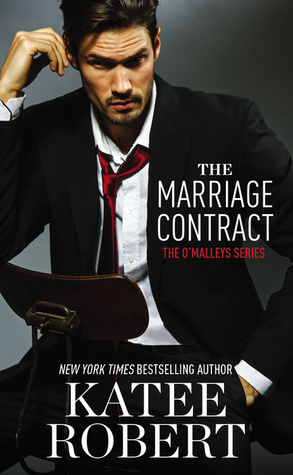 Title: The Marriage Contract
Genre: Contemporary Romance
Published: June 2nd 2015
New York Times and USA Today bestselling author Katee Robert begins a smoking hot new series about the O'Malley family-wealthy, powerful, dangerous and seething with scandal.

Teague O'Malley hates pretty much everything associated with his family's name. And when his father orders him to marry Callista Sheridan to create a "business" alliance, Teague's ready to tell his dad exactly where he can stuff his millions. But then Teague actually meets his new fiancée, sees the bruises on her neck and the fight still left in her big blue eyes, and vows he will do everything in his power to protect her.

Everyone knows the O'Malleys have a dangerous reputation. But Callie wasn't aware just what that meant until she saw Teague, the embodiment of lethal grace and coiled power. His slightest touch sizzles through her. But the closer they get, the more trouble they're in. Because Callie's keeping a dark secret-and what Teague doesn't know could get him killed.
I actually got this one as an audio-book freebie, and I must admit I thoroughly enjoyed it! It was intense, the chemistry was hot, and the suspense had me on edge! These Mafia reads really hook me, and I like that this one had a real danger element in it! I was on edge and experienced a few tough times for all families involved.
Both the O'Malley family and the Sheridan family were hard core families and were willing to remain strong by forming alliances. Even though Teague and Callie weren't ready to be married, they were willing to do anything to try and prevent war.
I liked how quick Teague and Callie formed their connection, and how their life paths took a turn they didn't expect. They were craving company from one another although they hadn't been together long. They both faced some tough times and I thought they were stronger together.
I really enjoyed the narration by Charlotte North, she portrayed all the characters well and drew me into the world and kept me hooked. I enjoyed Katee Robert's writing style and the emotion she wove through the pages as well as showing me the connections that all three families have. I'm looking forward to how some of these relationships will develop in future books, as they were intense in this read!
This was an interesting little twist, I hope it has you intrigued.



"Didn't arranged marriages go the way of the dinosaurs a couple decades ago?"




"Maybe for other families. Not for ours."




He knew that. Fuck,he wished he

didn't

know it so well. The rules of polite society were different for his family than they were for your average Joe. He'd learned a long time ago that the money and connections came with more strings than a spider's web. And walking away wasn't an option, because that same money and those connections would be ruthlessly deployed to bring any prodigal sons or daughters back into the fo1d—whether they wanted to come or not.




Teague took a healthy swallow of the whiskey. "You can't seriously be asking me to marry some woman I've never met from a family we were raised to hate."




"I'm not." Aiden paused, and it was like the whole room held its breath. "Father is."



Audiobook 20 minutes



Hosted by Anna @

Herding Cats & Burning Soup



New York Times and USA TODAY bestselling author
Katee Robert learned to tell her stories at her grandpa's knee.

Her 2015 title, The Marriage Contract, was a RITA finalist, and RT Book Reviews named it "a compulsively readable book with just the right amount of suspense and tension." When not writing sexy contemporary and romantic suspense, she spends her time playing imaginary games with her children, driving her husband batty with what-if questions, and planning for the inevitable zombie apocalypse.