What a sequel Spectacle turned out to be! And I will be on edge waiting for more! So much happened and I know I'll be getting the next book as soon as it's available!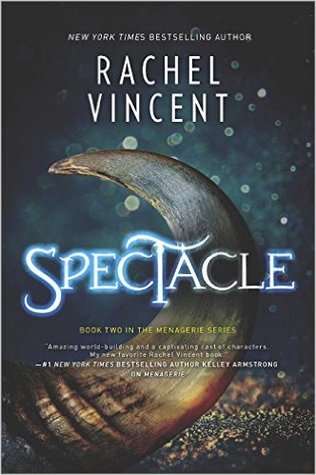 In this riveting sequel to New York Times bestselling author Rachel Vincent's acclaimed novel Menagerie, Delilah Marlow will discover that there is no crueler cage than the confines of the human mind…

When their coup of Metzger's Menagerie is discovered, Delilah and her fellow cryptids find their newly won freedom brutally stripped away as they are sold into The Savage Spectacle, a private collection of "exotic wildlife." Specializing in ruthless cryptid cage matches, safari-style creature hunts and living party favors, the Spectacle's owner, Willem Vandekamp, caters to the forbidden fetishes of the wealthy and powerful. At the Spectacle, any wish can be granted—for the right price.

But Vandekamp's closely guarded client list isn't the only secret being kept at the Spectacle. Beneath the beauty and brutality of life in the collection lie much darker truths, and no one is more determined than Delilah to strip the masks from the human monsters and drag all dark things into the light.
I must say, this book had my adrenaline pumping! Right from the first page I could feel that it was going to be an action packed read! I was on the edge of my seat as the story built and my jaw kept hitting the floor as twist after twist was thrown in. I'm going to say it, but I think that Spectacle was better than the first book and I am DYING for more.
Delilah and the rest of the Metzger's Menagerie cryptids only experienced their freedom for a little while, as they were captured and sold off to The Savage Spectacle. They soon found out they were nothing more than pawns and that money could buy anything. My heart broke as I watched them lose their dignity, were used and abused, and little by little, they lost their spirit.
The relationship between Delilah and Gallagher was as strong as ever, and I could see that Gallagher was struggling with his oath to her. Delilah continued to be passionate about their freedom and would do anything to save her fellow cryptids. I was glad that we got to see more of her furiae, too, as she defended those who needed it.
Rachel Vincent has proved to me once again how amazing her world building is. I loved the characters and the connection that they still have with one another, as well as seeing new characters introduced. Spectacle was told in two parts, and my mind was boggled as certain details were revealed! I couldn't believe how much time had passed and what may have unfolded! My chest ached for all the characters, being subjected to those conditions, treated badly and basically abused. I wanted them to fight back, hurt those that hurt them... I wanted the bloodshed, and I wanted to help! Spectacle will tear at your soul, as you too, would want to avenge these characters, and help them seek revenge!!
Complimentary copy provided by the Publisher, via NetGalley in exchange for an honest review.
I have two snippets today, because I had to share a couple of big moments from this book that made an impact on me!

"You want a show?" I whispered to Woodrow. He nodded, and I sucked in a deep breath. "Then hit me."
"Why?" the gamekeeper demanded, suspicion evident in his narrow-eyed gaze.
"Because if he thinks I'll pay for his failure, he'll fight to protect me. But he has to see it."
Woodrow glanced over my shoulder at Arroway. "Sir, step back please."
Shoes shuff led against carpet as the guest moved out of the way.
The gamekeeper looked down into the ring, and I followed his gaze to see Gallagher still watching me.
I never saw the blow coming.

Kindle Arc Loc 1754

"They wouldn't let me see you after the party," he said into the wet hair on the top of my head. "They wouldn't even tell me if you were still alive, after what you did to that guard."
"I'm fine," I assured him. "They said you killed two men."
"The slaughter would have been much greater, if not for the tranquilizers."
I took a step back and looked up at him. "I asked you not to make trouble."
"I swore to rip apart anyone who lays a hostile hand on you—to litter the ground with the corpses of our enemies—and my word is my honor, Delilah."
"I know."

Kindle Arc Loc 1910



Hosted by Anna @

Herding Cats & Burning Soup



A resident of Oklahoma, Rachel Vincent has a BA in English and an
overactive imagination, and consistently finds the latter to be more practical. She shares her workspace with two black cats (Kaci and Nyx) and her # 1 fan. Rachel is older than she looks-seriously-and younger than she feels, but remains convinced that for every day she spends writing, one more day will be added to her lifespan.
Other reviews featuring
Rachel Vincent