Tori is getting her own book! YES!!!
More Preppy!!After the last book I need this one like Yesterday!
Genre: Contemporary Romance
Expected Publication: January 17th 2017
The bestselling Ethan Frost series introduces a tantalizing new hero—and the broken woman only he can save. Discover why Beth Kery once declared that readers of Tracy Wolff will "fall in love under the spell of a master."

When Tori Reed loses everything, he sets her free.

I told myself I'd never trust Miles Girard, no matter how brilliant or sexy he may be. His sister, Chloe—Ethan Frost's wife—is my best friend, but I know just how low Miles will stoop to get what he wants. Now he's the last thing I want: my boss.

Growing up, I had it all—except for the sense that I belonged. And when a mistake from my past surfaces in the press, my parents don't hesitate to cut me off.

But surprisingly, Miles offers me a helping hand.

Before I know it, our relationship turns unprofessional in the hottest ways. Of course, he still drives me crazy. But when I'm dealt the ultimate blow, Miles is there for me. And maybe he's the one I've been looking for all along.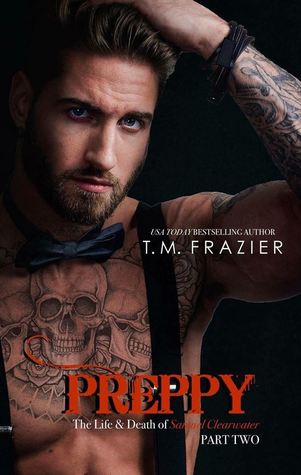 Title: Preppy: The Life and Death of Samuel Clearwater, Part Two
Genre: Dark Contemporary Romance
Expected Publication: January 24th 2017
Preppy finds himself back in a world he once loved, but no longer recognizes. His dim smile can't hide his inner turmoil and the people he views as family all suddenly feel like polite strangers.

Except for one person. A girl with dark eyes and even darker hair.
A girl who isn't even an option.

At least, not anymore.

Dre can't decide who she's going to listen to. Her heart, her head, or her body. Because two out of those three things have her heading right back to Logan's Beach. Closure is what she tells herself she's seeking, but when she unlocks doors that were never meant to be opened she soon discovers that when it comes to Samuel Clearwater, closure might NEVER be an option.

This is book six in the King Series and the second part of Preppy and Dre's story.
Waiting on Wednesday is a weekly meme hosted by Jill @ Breaking the Spine where I have the chance to spotlight upcoming releases that I'm eagerly anticipating.