I have to admit, the cover and the blurb pulled me into Blackmail Boyfriend... and some nice reviews! If you are looking for a quick, sweet young adult read, grab this one!
Title: Blackmail Boyfriend
Genre: Young Adult Romance
Sometimes, blackmail is the only weapon a girl has…

Haley Patterson has had a crush on golden boy Bryce Colton for ages. But when she hears a rumor that he hooked up with her she gives him a choice: be her boyfriend for a month to show other guys that she's dateable—despite her overprotective and very intimidating brothers—or deal with the angry, cage-fighting boyfriend of the girl he actually did hook up with.

Bryce didn't know the other Haley even had a boyfriend. He was just trying to get his ex off his back. And now, not only is he being blackmailed, he's being blackmailed by an honor student. His new "girlfriend" has two three-legged dogs, her father mows grass at the country club, and she's…well, difficult. And different.

Can something so fake turn into something real?
The blurb of Blackmail Boyfriend grabbed my attention as soon as I read it, so I decided I had to grab it and try it for myself. I really enjoyed this Young Adult read, written by a new-to-me author, Chris Cannon. It was a fun and light read that I was drawn into immediately, and I devoured the book within a day.
I liked Haley, she was quick to use the rumour to her advantage. She wanted her brothers to back off so she would be able to date, but she wouldn't let Bryce get away with spreading stories about their non-existent hook up. She was very confident when she confronted Bryce and shocked him into agreeing. It was pretty amusing, watching them negotiate the terms of their relationship. She has a kind heart, she volunteers at the local animal shelter and when she took Bryce it was interesting to see him outside of his comfort zone and to let some of his walls down.
Bryce is from a well off family and has no trouble hooking up with girls, but he finds himself drawn to Haley. He likes her honesty, she makes him laugh and he finds it easy to be around her. The deal they made is annoying him, but he's willing to stick it out. I thought it was cute to see how organised he was; he likes to have things in its place and hates sudden changes to his routine; he found it difficult at times to allow Haley in.
Haley and Bryce's friends Jane and Nathan were interesting too. Jane supported Haley with every decision she made and was a great person to confide in. Nathan helped steer Bryce in the right direction, and never held back on what he was thinking. I really liked them and hope to see more of them in the future.
This is the first book I have read by Chris Cannon and I really enjoyed it. The story flowed effortlessly and I smiled most of the time that I read it. The only issue I had was that the ending felt a little rushed and I would've liked to see a bit more detail there, but it still was an entertaining and cute young adult read.
Complimentary copy provided by the Publisher, via NetGalley in exchange for an honest review.
I have two swoons today... the naughty first kiss and a sweet moment! Enjoy!

"Are your brothers still watching us?"
I nodded.
"Good."
Before I could figure out why he asked, he leaned down and pressed his mouth against mine. His lips were soft and warm and he tasted like cinnamon gum. My brain shut down. When he pulled away I was shocked into silence.

Kindle Arc Loc 105


"Now pay attention." He leaned down and pressed his lips against mine and then pulled back a fraction of an inch. "This is real." His breath feathered across my lips before he closed the distance between us, kissing me again.
And the world and all my worries drifted away as happy warmth flowed through my veins. By the time the kiss ended, I was winded. "I'll see you tomorrow, and tomorrow will be a good day."

Kindle Arc Loc 1684



Hosted by

YA Bound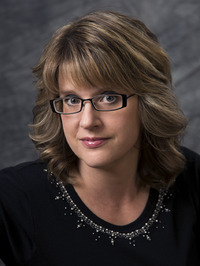 Chris Cannon lives in Southern Illinois with her husband and her three
dogs, Pete the shih tzu who sleeps on her desk while she writes, Molly the ever-shedding yellow lab, and Tyson the sandwich-stealing German Shepherd Beagle. She believes coffee is the Elixir of Life. Most evenings after work, you can find her sucking down caffeine and writing fire-breathing paranormal adventures and snarky contemporary romance.