If you are looking for a new type of Urban Fantasy read, you must pick up this new book by Rachel Vincent, and enter the world of
Menagerie... it was a fantastic beginning to an exciting new series!
From New York Times bestselling author Rachel Vincent comes a richly imagined, provocative new series set in the dark mythology of the Menagerie…

When Delilah Marlow visits a famous traveling carnival, Metzger's Menagerie, she is an ordinary woman in a not-quite-ordinary world. But under the macabre circus black-top, she discovers a fierce, sharp-clawed creature lurking just beneath her human veneer. Captured and put on exhibition, Delilah in her black swan burlesque costume is stripped of her worldly possessions, including her own name, as she's forced to "perform" in town after town.

But there is breathtaking beauty behind the seamy and grotesque reality of the carnival. Gallagher, her handler, is as kind as he is cryptic and strong. The other "attractions"—mermaids, minotaurs, gryphons and kelpies—are strange, yes, but they share a bond forged by the brutal realities of captivity. And as Delilah struggles for her freedom, and for her fellow menagerie, she'll discover a strength and a purpose she never knew existed.

Renowned author Rachel Vincent weaves an intoxicating blend of carnival magic and startling humanity in this intricately woven and powerful tale.
I have been hooked to Rachel Vincent's work since I devoured the Shifters series back in 2010 and the Soul Screamers series since then. Rachel has a magical way of creating fantasy worlds and she takes you on an incredible ride that sticks with you long after you close the book.
Menagerie
is a new series, unlike anything I've read before which takes us into the world of a travelling Menagerie, and the people and creatures that bring the show together.
Crypto's (fantasy creatures) have no rights in the US. There was a reaping that occurred in 1986 that has everyone on edge, even after all these years later. Now, any magical creature is captured and they can be bought and sold like property. One of the places that these creatures are kept is in a
Menagerie, where they are showed off to humans, treated like cattle and the possession that they are.
Delilah's world was turned upside down from the very beginning and life as she knew it would never be the same. Although she spent her life wanting to know more about crypto's (fantasy creatures), she never expected to experience what they go through. Delilah was a character I came to respect, because she could see past the monsters locked in a cage, to the hearts of the creatures they were.
My heart ached for Delilah, seeing her suffer, but she was strong and wouldn't break.
Delilah's perspective is one of a few in Menagerie. There are a lot of others that give us a better insight into the carnival and what their purpose is. Rommily the oracle gave me chills with her cryptic talk; Eryx the minotaur knows more than he lets on; Gallagher was a bit mysterious; and Atherton the deputy doesn't see things as just black and white. There is a mix of characters that I met, and not all of them are good.
Menagerie
was not an easy read; it was heartbreaking to see what the creatures endure and I shed multiple tears. I was blown away with this book and the way Rachel pieced it together. The journey was difficult, friendships were formed and they all experienced loss. Menagerie was an incredible first book in the series, which has set up the world for future books. I look forward to see what happens next as they begin a new journey together.
Complimentary copy provided by the Publisher, via NetGalley in exchange for an honest review.
I really loved Gallagher... he tries to keep his emotions hidden!

"We're running out of time, Delilah." The urgency in his voice stole my breath. "If you can't perform by next week, they will take you aw—"
Gallagher's mouth snapped shut so quickly I wasn't sure what I'd almost heard. "They'll sell you," he finished. "And I won't be able to protect you."

Kindle Arc Loc 2566



Hosted by Anna @

Herding Cats & Burning Soup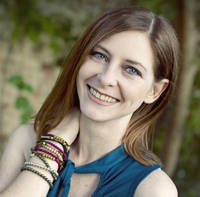 Rachel Vincent is a former English teacher and an eager champion of the
Oxford comma. She shares her home in Oklahoma with two cats, two teenagers, and her husband, who's been her # 1 fan from the start. Rachel is older than she looks and younger than she feels, and she remains convinced that writing about the things that scare her is the cheapest form of therapy—but social media is a close second.
Other reviews featuring
Rachel Vincent