I had to dive into the final book of the Selection series immediately! I needed to see what would happen to
Eadlyn, and to see how her family was coping.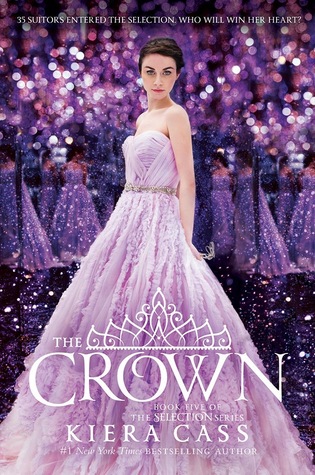 When Eadlyn became the first princess of Illéa to hold her own Selection, she didn't think she would fall in love with any of her thirty-five suitors. She spent the first few weeks of the competition counting down the days until she could send them all home. But as events at the palace force Eadlyn even further into the spotlight, she realizes that she might not be content remaining alone.

Eadlyn still isn't sure she'll find the fairytale ending her parents did twenty years ago. But sometimes the heart has a way of surprising you…and soon Eadlyn must make a choice that feels more impossible—and more important—than she ever imagined.
The Heir finished with a moment that left me gasping, wondering 'what's next?' So you know I had to dive into the final book immediately!
Eadlyn had to step up when her family needed her and I admired her for that. She grew so much throughout the story and I could see the change in her. She took responsibility for her country, when her father was unable to.
I also liked seeing her continuing the search for love, and I had hopes for who she would choose. She had kept around the guys that truly meant something to her, and I know each of them had impacted her in one way or another.
The Crown was a fitting ending to Eadlyn Schreave's story. Unfortunately it just wasn't the ending that I wanted. It was good to see all the old and new characters together again. I have thoroughly enjoyed Kiera Cass's writing, and I hope to pick up more of her work in the future!
This was a moment where Eadlyn showed that she was also human and a little vulnerable.

"Erik, this needs to stay between us," I said quietly, the words coming out more like a request than a command. "I admit, in the beginning, I wanted nothing to do with the Selection. But now …"
"Now you're in love?" he asked, his tone both curious and melancholy.
I laughed once. "I'm a lot of things. Infatuated, frightened, desperate, hopeful. It'd be nice to add 'in love' to the list." I thought of Kile and our conversation in the garden. Love was still too big a word for that, and none of what I'd said to Kile felt appropriate to share with Erik. "Sometimes I think I'm close, but right now, the Selection is something I need to finish. For a lot of reasons. A lot of people, too."
"I certainly hope you're one of them."
"I am," I promised. "Just maybe not in the way people would think."
He didn't answer. He merely walked along, taking in my words.
"You can't repeat any of that, not to anyone. I can't believe I said those things to you. If this Selection seems like it was a joke or fake in any way—"
He held up a hand. "You don't have to worry about me. I'd never break your confidence. I assume it's not an easy thing to acquire in the first place, and I'd hate to waste it."
I smiled. "Well, you more than earned it. You've kept secrets for me already, and pulled me out of the middle of a fight, and brought me a flower when you didn't have to."
"It was only a dandelion."
"Perspective," I reminded him, and he grinned at his words coming back to stare him in the face. "All I'm saying is, you've done a lot for me without being under any obligation to do so. You've earned my trust."

Paperback Page 66-67



Hosted by Anna @

Herding Cats & Burning Soup



I am a graduate of Radford University with a B.S. in History. I grew up in South Carolina and currently live in Christiansburg, Virginia with my electrical engineer hubby, car-obsessed son, and princess-loving daughter. I'm a #1 New York Times bestseller, woohoo! I'm also a valued customer at my local cupcake shop.

Things I hate:

When people fail to use turn signals, flying, salads.

Things I love:

Office supplies, boy bands, desserts.