This was a thrilling beginning to this duet. Trisha Wolfe has harnessed her inner dark side and put together this fantastic dark romance that I need more of!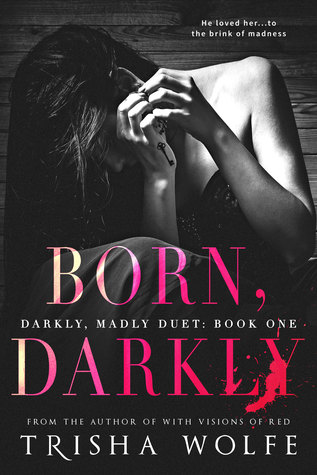 Series: Darkly, Madly Duet #1
Genre: Dark Romantic Suspense
He challenged her sanity.

She shattered his reality.

They dared each other...to the brink of madness.

A dark and twisted maze awaits criminal psychologist London Noble when she falls for her patient, convicted serial killer, Grayson Pierce Sullivan. As she unravels the traps, her sanity tested with each game, she's forced to acknowledge the true evil in the world around her.
I can't remember the last time a book gave me the feels like this one did! It was dark, it was intense and at times wrong... but it was hot and sexy too! It truly was a book that messed with my mind as I tried to understand the growing relationship between London and Grayson.
London was a psychologist who worked with killers... specifically psychopaths. She got into their minds to determine whether they could be rehabilitated or not. This was how she was able to work with Grayson Sullivan; a convicted murderer that she has wanted to meet one-on-one for some time.
Grayson was just as twisted as I thought he would be. He had put a lot of thought into his killings, as each one of them had performed crimes themselves. I knew he was going to be a complicated person, but I never expected how intelligent and psychotic he could be. He thought everything minor detail through, and each step was planned months ahead.
These two had more in common than either of them realised. London took the time to try and understand Grayson, but he only revealed what he wanted her to see. Grayson knew there was more to London and just wanted her to see it too. She had demons buried in her past that needed to be uncovered... which shocked me to my core. These two are a match made in heaven – or hell, if you prefer.
Trisha Wolfe is an author that I have come to love. She has written in a number of genres, and I've devoured each and every read. This book however was a serious mind trip, and I think that she has one truly complex and twisted mind to deliver a masterpiece such as this one! I didn't know if I should be revolted with London and Grayson's relationship, or to cheer them on with their psychotic plans. I do know though I could not put this one down and I need to know what happens next!!
Complimentary copy provided by the Author in exchange for an honest review.
*** Swoon Thursday was first bought to us by YA Bound. Since they are no longer with us, and with permission from Trisha Wolfe, I have decided that those of us that love to swoon need a central meet up point. So here it is ladies! I have a link up for everyone at the bottom of the post you can add your swoons to, and I'll set it up every week! So tell all other swooners out there to come on over, link up so we can visit each other! *** These two, I couldn't figure out if I loved them or hated them! They were great together and through these teasers you could feel the chemistry!

"You're mad. You're delusional. You've built an alternate reality around me that is as far from the truth—"
His lips capture mine, silencing me. The kiss is hard and carnal and raw. I moan into him before I brace my palms high on his chest and push, breaking away.
"I wanted to taste the lie on your lips," he says. "Tastes bitter. Nothing like that sweetness I experienced yesterday." Then he backs farther away, allowing me to breathe and straighten my blouse.

Kindle Arc Loc 1358

"I want to leave. Now. Right now, Grayson. Let me go."
He rests his palm on my cheek. "God, you're beautiful." Then his lips taste mine. Slow and tentative at first, he kisses me deeply, and I welcome it. Our movements become frenzied as I put every emotion into the kiss, begging him. When he breaks away, I say again, "Please, release me."
He licks his lips as his gaze drags over my face. "Not happening, doc. You've been a very, very bad girl."

Kindle Arc Loc 2022


Originally inspired by

YA Bound
From an early age, Trisha Wolfe dreamed up fantasy worlds and characters and was accused of talking to herself. Today, she lives in South Carolina with her family and writes full time, using her fantasy worlds as an excuse to continue talking to herself.

For more information on Trisha Wolfe and her works, please visit: www.TrishaWolfe.com

To be the first to hear about new releases and sale events, sign up for Trisha Wolfe's Newsletter: http://bit.ly/1rXTKI7
Other reviews featuring Trisha Wolfe
Would you like me to add the link up code to this post, so you can add it to your own posts?