It's been a while since I've read the first book in the series, but I remembered it being a lot of fun. So you know I had to dive back in when I found it on SALE!
Title: Wrong Place, Right Time
Series: The Bourbon Street Boys #2
Genre: Contemporary Romance
Jenny's single-parent life revolves around her kids and her job, which means that hours of Animal Planet and strings of computer code are about all she has time for. Not that Jenny's looking for adventure or romance—she's the type of woman who believes in playing it safe.

When Jenny is called upon to do some consulting for the Bourbon Street Boys—a New Orleans private security firm—she knows she should stay away. They conduct surveillance on known criminals and put themselves in harm's way pretty much every day, so No is the obvious answer…Problem is, there's a guy on the team with a body to die for and a dimple that just won't quit luring Jenny in, tempting her to throw all caution to the wind.

Will Jenny take the risk or will she do what she's always done—play it safe and wait for the right time?
I remember enjoying the first book in this series – the action, the snark, the sexiness – so I was hopeful that this book would be as fun too! However,
Wrong Place, Right Time
was a more serious read, with both characters being single parents and focused on their work.
Jenny was a mother of three, who was stuck in a job she didn't enjoy any more. Her kids were her number one focus and would drop anything for them. She struggled in the beginning and was quite insecure, but a long the way she grew stronger and stood up for herself. Her change in work was good for her, as she was able to find that work/family balance.
Dev was just a gentle giant when it came to Jenny. I enjoyed watching their attraction grow each time they were together. Dev had his own family drama, and I liked that he had that in common with Jenny. In the first book he trained May, and he had quite the collection of knives, so it was sweet to see this different side to him.
Dev and Jenny were amusing to watch, as both of them were reluctant to make the first more. They were keen to get back into the dating game and pushed one another to take the step. I just wanted them to open up to one another, because they skirted around their feelings for a long time! But once they made the jump, it was hot!
Like the first book, I listened to it on Audio. I think that the narration let me down in this one as it seemed so drawn out. There were long pauses between sentences, that were unnecessary. I would've liked the story to flow a little quicker and more consistent. The plot seemed a little drawn out as well, just when I thought things were wrapped up, there was a little more. Overall it was a good read, but lacked a little punch.
Here's a fun quote, I laughed as they were starting to get all hot and heavy!


"

...It's fine if you want to stay here in the kitchen." I look to my left. "In front of the refrigerator."

Next thing I know, my world is turning upside down. I let out a quick scream before I realize what's happening. He's holding me in his arms, and with his long strides we're already halfway down the hallway.

I start laughing like a maniac. "What are you doing?" My hair dangles in the air, hanging over his arm, and my legs are flopping around as I try to get upright.

"

You're making me crazy. You think I don't want to go to your bedroom? You're nuts."


Kindle Page 296



Hosted by Anna @

Herding Cats & Burning Soup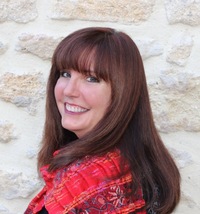 Hi. I'm Elle Casey, a full-time hybrid author (hybrid, meaning I
publish
some of my books myself and some with a traditional publisher – Montlake Romance). I published my first novel WRECKED on January 1, 2012 and have published on average a book every six weeks since. I quit my jobs as a lawyer and teacher early in 2013 to focus full time on my writing, and I couldn't be happier. I love my work and even more so, my readers!
Other reviews featuring Elle Casey
The Bourbon Street Boys
Wrong Number, Right Guy
#1