If there is a book you NEED this week, for under a dollar, it must be Harley & Rose! This book will rip you to shreds, but I assure you, that it'll be all worth it!!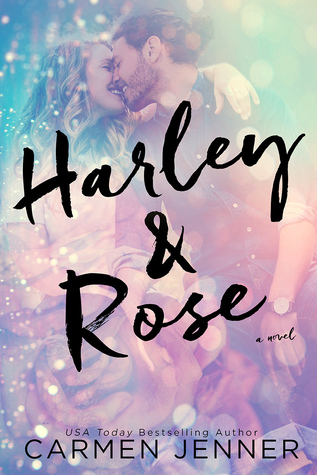 Genre: Contemporary Romance
Ever since she was a little girl, thirty-year-old Rose dreamed of the day Harley would carry her across the threshold on their honeymoon. So what if this isn't her actual wedding day, and that she's only here because Harley was left at the altar just a few hours earlier?

Trading San Francisco for paradise and swapping her bridesmaid's bouquet for a Blue Hawaii, Rose hopes she can finally escape the friend zone.

Once upon a time they had been more than friends, but life got in the way. She's spent every day since wishing Harley would get a clue.

She's always been his best friend.

He's always been hers.

She's in love with him.

He's … not in love with her.

He's … marrying someone else.

He's … hiding something.

He's … well—it's complicated.
It's been a long time coming, but I've finally picked up my first
Carmen Jenner
book, but I'll tell you that I did not expect this! I didn't realise that my heart was going to break over and over, and then to have my soul ripped out, while my emotions spilled over and I ugly cried! This book was so hard to read, was beautifully written and addictive to read right until the final page!
Harley and Rose have been best friends since they were five years old, and through this book I saw how close they were, both in the past and the present. In the present, Rose supported Harley as he was left at the alter by his fiancée, and she accompanied him on his honeymoon. There were ups and downs as Harley dealt with his feelings, but Rose had to give him time. She enjoyed the sun and sand, and was able to make some decisions of her own. When they return home after a reality check things are strained, but there's something, as a reader, we were missing.
The snippets from the past showed me how close they were growing up, and I could see the constant love they had for one another. Harley was really the sweetest, and fought for Rose when needed. But there were times when things were so hard and it was difficult for them to find that eternal happiness together. One thing I knew though, no matter what these two went through, they loved each other fiercely, and probably so much that they'd sacrifice their own happiness to spare hurting one another.
Carmen Jenner
wove this tale perfectly as I became emotionally attached to the characters and their story. I can't imagine how difficult this story was to write!! Rose was a successful businesswoman, who wore her feelings openly. Harley knew what he wanted, but was hiding something that forced him to keep distance between himself and Rose. I loved how the story unfolded and I cried during a big section of the book, so I know this book will be on my mind for a long time! What are you waiting for? Get it! You won't regret it! Just have the tissues on standby...
Complimentary copy provided by the Author in exchange for an honest review.
*** Swoon Thursday was first bought to us by YA Bound. Since they are no longer with us, and with permission from Trisha Wolfe, I have decided that those of us that love to swoon need a central meet up point. So here it is ladies! I have a link up for everyone at the bottom of the post you can add your swoons to, and I'll set it up every week! So tell all other swooners out there to come on over, link up so we can visit each other! *** There was a moment leading up to this that I loved too, but it was a little long, so I settled with this...

"Rose, when I get home, I'm going to put a ring on that finger." He cups my face with both hands, searching my gaze like a desperate man seeking salvation. "So you had better wait for me. Promise you'll wait?"
I nod and smile through my tears. "Forever if I have to."

Kindle Arc Loc


Originally inspired by

YA Bound
Carmen Jenner is a thirty-something, USA Today and international bestselling author.

Her dark romance, KICK (Savage Saints MC #1), won Best Dark Romance Read in the Reader's Choice Awards at RWDU, 2015.

A tattoo enthusiast, hardcore makeup addict and zombie fangirl, Carmen lives on the sunny North Coast of New South Wales, Australia, where she spends her time indoors wrangling her two wildling children, a dog named Pikelet, and her very own man-child.

A romantic at heart, Carmen strives to give her characters the HEA they deserve, but not before ruining their lives completely first … because what's a happily ever after without a little torture?