My friend Chanzie over @ Mean Who You Are and I decided to recommend some great 5 Star books to one another to read and review for ourselves. This time I am finishing the Infernal Devices series with Clockwork Princess.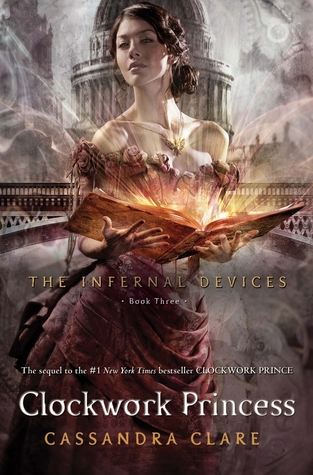 Title: Clockwork Princess
Author:
Cassandra Clare
Series: The Infernal Devices #3
Genre: YA Paranormal/Steampunk
Tessa Gray should be happy—aren't all brides happy? Yet as she prepares for her wedding, a net of shadows begins to tighten around the Shadowhunters of the London Institute. A new demon appears, one linked by blood and secrecy to Mortmain, the man who plans to use his army of pitiless automatons, the Infernal Devices, to destroy the Shadowhunters. Mortmain needs only one last item to complete his plan. He needs Tessa. And Jem and Will, the boys who lay equal claim to Tessa's heart, will do anything to save her.
Now that I have finished the Infernal Devices series, I can fully understand how incredible it was. The Clockwork Princess was the perfect way to wrap it all up. I was on the edge of my seat building up to the final showdown. I was in emotional turmoil during the second half of the book, especially at the end. My heart broke, I cried tears of sorrow and tears of joy, and I have fallen so deeply for these characters. Even now as I write this review, tears are springing to my eyes. I can't remember the last time a book has affected me this way. It was a beautiful ending to a remarkable series.
Tessa, Will and Jem have grown so much since I first met them, and in Clockwork Princess there were a lot of sacrifices made. My heart seemed to shatter constantly – each time a twist was thrown in. Their love for one another kept them strong, so they could do all they could to bring Mortimer down.
There always seemed to be hurdles for them to jump that came from outside forces and made things difficult for everyone at the London Institute. They are a great team and I liked seeing them all grow closer in this book. Stronger relationships were formed with other members and a couple of new members too. There was tremendous growth from all characters in the book.
This book was always going to have the showdown with Mortimer. Along the way I learnt how things lead to this particular moment and all the twists were revealed. Tessa has been a part of his plans longer than anyone could imagine.
Cassandra Clare
has done a magnificent job at concluding this series. It definitely put my emotions through the wringer!! The characters felt so real and I immersed myself into the world she created. I enjoy the way she pieced the story together and I was never lost as we followed different perspectives. The letters, little poems and excerpts included in the book gave me more to think about along the way. If you haven't tried a Cassandra Clare series, I definitely recommend this one! Stick it out until that final page, you will not regret it!!
Other reviews featuring Cassandra Clare