My friend Chanzie over @ Mean Who You Are and I decided to recommend some great 5 Star books to one another to read and review for ourselves. This time I am continuing the Infernal Devices series with Clockwork Prince.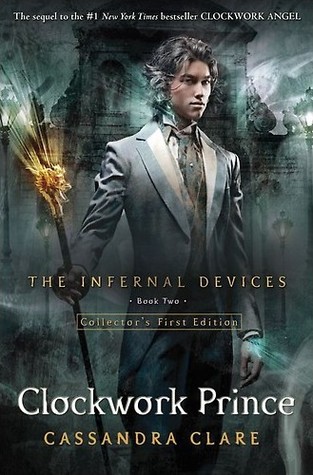 Title: Clockwork Prince
In magical Victorian London, orphan Tessa found safety with the Shadowhunters, until traitors betray her to the Magister. He wants to marry her, but so do self-destructive Will and fiercely devoted Jem. Mage Magnus Bane returns to help them. Secrets to her parentage lie with the mist-shrouded Yorkshire Institute's aged manager Alyosius Starkweather.
Clockwork Prince
was a fantastic sequel in
the Infernal Devices series! It had everything I love in a great steampunk/paranormal read: plotting, betrayal and plenty of action. There was a lot of character growth, relationships became stronger and we even travelled to York. I think because I knew the characters, I fell into this book easier and enjoyed the world so much more than the first book.
I liked seeing Tessa use her gift more. It is becoming easier for her and it really is a valuable asset for the Shadowhunters. She is able to get information while people don't realise it's her. The relationships that she has built with Jem and Will become quite complicated through this story and it kept me wondering which way things would go. But no matter what, they will sacrifice anything to save one another.
As the story unfolded, I was more and more drawn to the gripping plot. There are challenges at every turn and they manage to work well as a team. The people at the London institute are like a family and it was nice to see what they would do for one another. There are a lot of secrets revealed throughout this book too, some of which caught me by surprise. I also liked seeing more into other Shadowhunters, especially the Lightwood family.
I have enjoyed the way Cassandra has set this book up for the final showdown. I still have a lot of questions that need answers and I am looking forward to getting them in Clockwork Princess.
Other reviews featuring Cassandra Clare
The Infernal Devices
Clockwork Angel #1