I think I've found a new author to devour and I loved every moment of reading this book. I'm looking forward to getting to know Ian's friends a little better, and the women that own their hearts!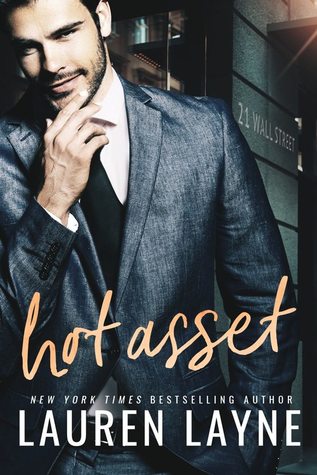 Series: 21 Wall Street #1
Genre: Contemporary Romance
Published: May 22nd 2018
A sexy agent hounds Wall Street's hottest new wolf in an exhilarating novel from New York Times bestselling author Lauren Layne.

Ian Bradley is the definition of a Wall Street hotshot: seven-figure salary, designer suits, and a corner office. His drive off the floor is just as potent. Every woman who knows him has felt the rush. But now he's met his match in Lara McKenzie—a woman with the power to bring Ian to his knees.

An ambitious, whip-smart daughter of FBI agents, Lara is a rising star in fighting white-collar crime. Her latest case—the investigation of Ian Bradley for insider trading—could make her career. She knows a scoundrel when she sees one. Ian fits the bill: a cocky, ridiculously handsome bad boy with a slick swagger.

She'll do anything to prove he's guilty. He'll do anything to prove he's not. But it's only a matter of time before their fierce battle of wits gets oh so hot and personal. Now, taking down Ian has become more than business for Lara. It's become a pleasure—and there's more at risk than she ever dreamed.
I haven't read anything by Lauren Layne before, but I can tell you now that I'm kicking myself! Hot Asset was a fabulous read that I struggled to put down... but alas, I must sleep, work and parent... but outside those times, I devoured Hot Asset!
I really enjoyed seeing Ian meet his match in Lara. He was a bit of a player, but once they met I could see him change. Even though they were on opposite sides, I could see their attraction growing! I liked that Lara was passionate at times and let her guard down, and that despite how it may get Ian in trouble, he would push Lara to her limit!
The enemies to lovers is probably one of my favourite traits in a read, however the mystery behind the investigation pulled me into the story, as well. I liked how the chemistry between Ian and Lara was there all the way through the investigation. Lauren Layne sure knows how to build a world and create a cast of characters that I cannot wait to see more of!
I have a couple of teasers for you today... I just loved these two together!

I reach out my right hand. "Ian Bradley."
She ignores the hand and nods. "Nice to meet you."
I lean forward and whisper, "This is the point where you give me your name."
She leans forward and whispers back, "This is the point where you take the hint that I'm not interested in what you're offering."
Challenge accepted.

Kindle Page 6

"For what it's worth," he says, not looking at me as a cab pulls to a stop in front of us. "When I make out with you, it won't be against the wall of a seedy club. And I will definitely remember it."

Kindle Page 119



Hosted by Anna @

Herding Cats & Burning Soup



Lauren Layne is the New York Times and USA TODAY bestselling author of more than two dozen romantic comedies. Her books have sold over a million copies, in nine languages. Lauren's work has been featured in Publishers Weekly, Glamour, The Wall Street Journal, and Inside Edition. She's based in New York City.