Second chance loves are always sweet reads, so I'm excited to read Before We Were Strangers. And a book about dream travelling! Yes please!
Title: Before We Were Strangers
Genre: NA Contemporary Romance
Expected Publication: September 1st 2015 in Australia
From the USA TODAY bestselling author of Sweet Thing and Nowhere But Here comes a love story about a Craigslist "missed connection" post that gives two people a second chance at love fifteen years after they were separated in New York City.

To the Green-eyed Lovebird:

We met fifteen years ago, almost to the day, when I moved my stuff into the NYU dorm room next to yours at Senior House.

You called us fast friends. I like to think it was more.

We lived on nothing but the excitement of finding ourselves through music (you were obsessed with Jeff Buckley), photography (I couldn't stop taking pictures of you), hanging out in Washington Square Park, and all the weird things we did to make money. I learned more about myself that year than any other.

Yet, somehow, it all fell apart. We lost touch the summer after graduation when I went to South America to work for National Geographic. When I came back, you were gone. A part of me still wonders if I pushed you too hard after the wedding…

I didn't see you again until a month ago. It was a Wednesday. You were rocking back on your heels, balancing on that thick yellow line that runs along the subway platform, waiting for the F train. I didn't know it was you until it was too late, and then you were gone. Again. You said my name; I saw it on your lips. I tried to will the train to stop, just so I could say hello.

After seeing you, all of the youthful feelings and memories came flooding back to me, and now I've spent the better part of a month wondering what your life is like. I might be totally out of my mind, but would you like to get a drink with me and catch up on the last decade and a half?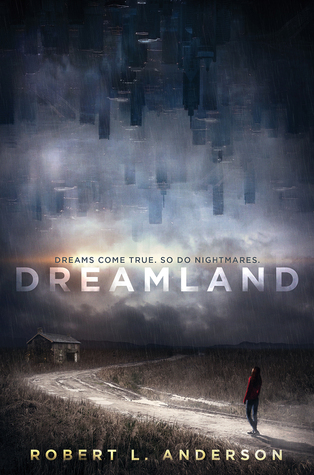 Author: Robert L. Anderson
Expected Publication: September 22nd 2015
Odea Donahue has been able to travel through people's dreams since she was six years old. Her mother taught her the three rules of walking: Never interfere. Never be seen. Never walk the same person's dream more than once. Dea has never questioned her mother, not about the rules, not about the clocks or the mirrors, not about moving from place to place to be one step ahead of the unseen monsters that Dea's mother is certain are right behind them.

Then a mysterious new boy, Connor, comes to town and Dea finally starts to feel normal. As Connor breaks down the walls that she's had up for so long, he gets closer to learning her secret. For the first time she wonders if that's so bad. But when Dea breaks the rules, the boundary between worlds begins to deteriorate. How can she know what's real and what's not?
Waiting on Wednesday is a weekly meme hosted by Jill @ Breaking the Spine where I have the chance to spotlight upcoming releases that I'm eagerly anticipating.