The first book in Aly Martinez's new series was released yesterday! It is a great beginning to a world I'm looking forward to getting back into. It began with two scarred characters looking for closure, and boy, did I enjoy it! *fans self* Check it out for yourself today!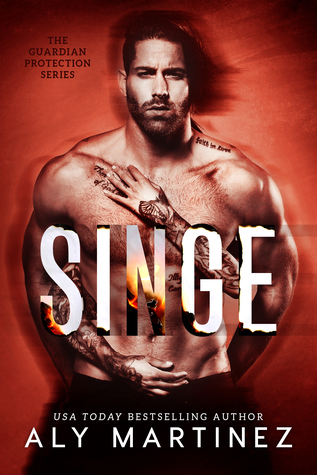 Series: Guardian Protection #1
Genre: Contemporary Romance
She was my nightmare. Every time I closed my eyes, I watched her fall into that inferno. Over and over, I failed to save her.

I hadn't been able to reach her, and the guilt only burned hotter over time. Four years later, I was the unreachable one.

Heroes aren't always saints. Sometimes, we're nothing more than jaded sinners driven by sleepless nights and hearts full of darkness.

And then I met her. She was a dreamer who managed to soothe my scars and heal my wounds.

But, as the flames closed in around us, I feared I wasn't the right man to save her. That is until I realized she was the one woman I'd burn the world down to protect.
After having my first taste of Aly Martinez's work last year, I knew I had to read more of her work and jumped at the chance to read Singe! I was intrigued by the story line and I needed to know if the scars, the guilt and the hurt could be mended.
Jude was a character that I liked from the beginning. He was a proud and kind guy, but one little mistake shattered his dream. It was good to see that he had moved on, although not in a career path that he would've wanted. The incident that changed his life still haunted him, and he had returned to where his nightmares had begun.
When I met Rhion, I was unsure of her role in the story, but the more she revealed I could see how she could mend Jude. She was a quiet girl, who didn't venture out a lot, but she also had a passion for writing books. I liked seeing their relationship build and how they could heal one another. Rhion had a quirky attitude and kept all the guys from the Guardian Protection agency on their toes. She had a special relationship with all the guys there, and they would do anything to protect her.
This was an intriguing story, with a touch of danger lurking beneath the surface. I could feel it building and I guessed the direction a little earlier in the book. But despite figuring it out, I still enjoyed the story. Rhion and Jude were great together, and despite their scars they could see past them, and learned to love. Aly Martinez has created a new world full of characters I'm excited to read more about.
Complimentary copy provided by the Author in exchange for an honest review.
*** Swoon Thursday was first bought to us by YA Bound. Since they are no longer with us, and with permission from Trisha Wolfe, I have decided that those of us that love to swoon need a central meet up point. So here it is ladies! I have a link up for everyone at the bottom of the post you can add your swoons to, and I'll set it up every week! So tell all other swooners out there to come on over, link up so we can visit each other! *** There's no kisses here, but this was a sweet moment between Jude and Rhion...

The hair on the back of my neck stood on end as I sucked in a sharp breath. His fingers brushed over the marred skin on my chest, dipping low before retreating.
It probably wasn't as much sexual as it was sad, but my nipples peaked all the same.
"These are mine," he whispered, trailing his fingers over my scars.

Kindle Arc Loc 1098


Originally inspired by

YA Bound
Born and raised in Savannah, Georgia, Aly Martinez
is a stay-at-home mom to four crazy kids under the age of five- including a set of twins. Currently living in South Carolina, she passes what little free time she has reading anything and everything she can get her hands on, preferably with a glass of wine at her side.
Other reviews featuring
Aly Martinez
On the Ropes series
Fighting Silence #1
Would you like me to add the link up code to this post, so you can add it to your own posts?