Have you read a Karina Halle book yet? If not what are you waiting for? She sure knows how to entwine a difficult storyline into a sweet romance that I was hooked to! Check it out today!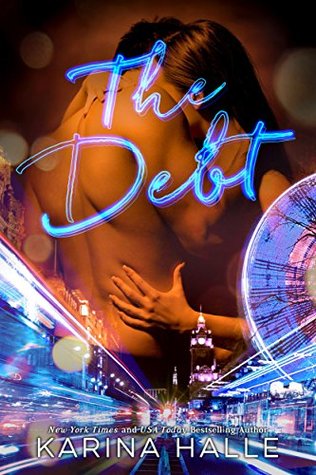 Genre: Contemporary Romance
Her life changed in an instant.
And he's the only one who could have prevented it.

From the New York Times bestselling author of The Pact and The Lie comes a new standalone contemporary romance about those McGregor men.

Jessica Charles shouldn't have even been in London when the unthinkable happened.
She should have been back at home in Edinburgh, perhaps hanging with her boyfriend, having drinks with her sister or doing yoga with her group of friends. She should have been going on in her normal, dependable life as always.
But on that fateful day in August, when a mentally-ill ex-soldier opened fire in public, Jessica's world changed forever.
Now single and crippled from the gunshot wounds, Jessica finds herself scared and alone, losing faith in herself and humanity with each agonizing moment that passes.
That is until a stranger enters her life. A stranger who makes her live again.
Keir McGregor has always been the strong, silent type. Throw in tall, dark, and handsome and you've got pretty much the perfect Scotsman.
Except Keir is anything but perfect. He's got a past he's running away from and a guilty conscience he can't seem to shed. But the more time he spends with Jessica, the more he falls in love with her.
And the more his secret threatens to tear them apart.
He may have been a stranger to her.
But she's never been a stranger to him.
Karina Halle is one of those authors that has been on my reading list for a while, but I haven't read anything by her, even though I have a couple of her books on my Kindle App. I'm glad that I picked up The Debt, as it was a great introduction to her writing, and the intense emotions she can pull from me! It was quite a hard read, as the characters were both broken on the inside and wore physical scars on the outside.
The beginning of the book shattered me immediately! I watched as Jessica went through something that would change her life forever. Her world was turned upside down and she struggled daily with everything she had to do. When she met Keir at a local pub, she was able to focus on something else for a change and he brought a bit of colour to her bland life. But Keir was hiding secrets too, and it hurt my chest that he felt he couldn't share them with her.
It was sweet to see their relationship grow into something physical and that they could take a trip to get to know one another better. However, both Jessica and Keir had faced hard times and were suffering PTSD because of it. Jessica was trying to get help, but wasn't quite on the right path and Keir was trying in his own way. I wished he would open up, because I could see it festering and affected his everyday life. They both seemed to be doing better together, but it was only a matter of time before old demons would resurface.
For my first Karina Halle read, I was very impressed. I loved that the characters were older: Jessica – 30 and Keir 38. I enjoyed watching their relationship grow and how Karina wove the darkness of PTSD throughout the story. It's a hard subject that is quite often ignored, and I could see the characters trying to forget about it, but it resurfaces without warning. The Debt was a beautiful read about two lost souls, trying to find their way in life after going through traumatic situations, and to find love at the end of the tunnel.
Complimentary copy provided by the Author in exchange for an honest review.
*** Swoon Thursday was first bought to us by YA Bound. Since they are no longer with us, and with permission from Trisha Wolfe, I have decided that those of us that love to swoon need a central meet up point. So here it is ladies! I have a link up for everyone at the bottom of the post you can add your swoons to, and I'll set it up every week! So tell all other swooners out there to come on over, link up so we can visit each other! *** This was a beautiful moment between Keir and Jessica... My heart swelled for these two!

"You deserve happiness, little red," he murmurs, his eyes briefly going to my ear as he reaches over and tucks another windblown strand behind it. "You deserve to feel beautiful." His fingers rest on my chin, holding me. "I want to make you feel beautiful. Will you let me?"
As if I have a choice.
Before I can mumble some sort of agreement he closes the space between us, smiling just a little before presses his lips to mine. The kiss is both soft and hard, a layer of caution hinting at the lust underneath. His mouth is warm and I can taste the whisky, the sweet burn of it as his tongue gently brushes against mine.

Kindle Arc Loc 2025


Originally inspired by

YA Bound
Karina Halle is a former travel writer and music journalist and The New York Times, Wall Street Journal and USA Today Bestselling author of The Pact, Racing the Sun, Sins & Needles and over 25 other wild and romantic reads. She lives on an island off the coast of British Columbia with her husband and her rescue pup, where she drinks a lot of wine, hikes a lot of trails and devours a lot of books.

Halle is represented by the Waxman Leavell Agency and is both self-published and published by Simon & Schuster and Hachette in North America and in the UK.

Hit her up on Instagram at @authorHalle, on Twitter at @MetalBlonde and on Facebook. You can also visit www.authorkarinahalle.com and sign up for the newsletter for news, excerpts, previews, private book signing sales and more.