I had to get this one, I've been loving Vi Keeland's work with Penelope Ward, and I needed something that was fun and sexy. Bossman was just what I needed and Vi executed this one perfectly!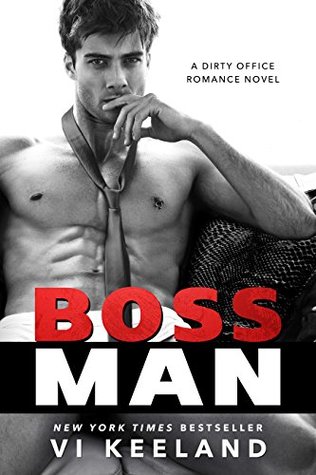 Author: Vi Keeland
Genre: Contemporary Romance
Published: July 16th 2016
The first time I met Chase Parker, I didn't exactly make a good impression.

I was hiding in the bathroom hallway of a restaurant, leaving a message for my best friend to save me from my awful date.

He overheard and told me I was a bitch, then proceeded to offer me some dating advice.

So I told him to mind his own damn business―his own tall, gorgeous, full-of-himself damn business―and went back to my miserable date.

When he walked by my table, he smirked, and I watched his arrogant, sexy ass walk back to his date.

I couldn't help but sneak hidden glances at the condescending jerk on the other side of the room. Of course, he caught me on more than one occasion, and winked.

When the gorgeous stranger and his equally hot date suddenly appeared at our table, I thought he was going to rat me out.

But instead, he pretended we knew each other and joined us―telling elaborate, embarrassing stories about our fake childhood.

My date suddenly went from boring to bizarrely exciting.

When it was over and we parted ways, I thought about him more than I would ever admit, even though I knew I'd never see him again.

I mean, what were the chances I'd run into him again in a city with eight million people?Then again...

What were the chances a month later he'd wind up being my new sexy boss?
I love it when I grab a new book and just from the opening pages I know I'm going to enjoy it! Chase and Reese's first meeting was full of fun banter, flirty behaviour and made up stories that had me laughing! I knew these two would be good together, and even though Reese tried to deny the attraction, it was fun to see their connection build!
Chase was a confident, good looking guy, that wasn't afraid to go after what he wanted. He had charm, he had swagger, but he was hiding something that hurt him deeply. It was great to see the passion and excitement he got from his work, but to see that flow from having Reese around was sweet too.
Reese was a nice girl, who was after a career change and looking for love. She met Chase while on a date with someone else, and he left an impression on her. But when she landed a job working for him she was adamant that she wouldn't sleep with the boos because she has been hurt in a past experience. But watching Chase and Reese together I knew it would be only a matter of time!
Chase and Reese had chemistry from the start, but Reese's rules kept them apart. Chase's past was also a factor, because I knew it would come back to haunt them. When they finally gave into their desires, it was one hot scene... Reese was mortified, Chase was restrained and I knew it would explode! *fans self*
I've read a few books that Vi Keeland has written with Penelope Ward (which I've loved) but I've read some of her solo work, and this is my favourite of hers so far! I loved the characters that were damaged in their own ways, but they had great chemistry and worked well together. I liked the writing style, getting snippets from Chases past, but the story was mostly from Reese's perspective. I'm looking forward to picking up more of Vi's work in the future!
These were both great moments between Chase and Reese... the first was sweet!

"I want more with you. I can't promise you what that is or where it will go, but it's more than just physical. I'm attracted to everything about you—you're smart, honest, funny, brave, a little nutty—and you make me smile for no reason.



Kindle Loc

2292


This scene was so damn hot...

When he finally opened his eyes, and a groan came from his lips, I was done. So done.
I launched myself at him, throwing my arms around his neck. "I quit."
He wrapped his arm around my waist, and with one quick hitch, he lifted me up. "It's about damn time."

Kindle Loc 2374



Hosted by MizB of

A Daily Rhythm
Vi Keeland is a native New Yorker with three children that occupy most of her free time, which she complains about often, but wouldn't change for the world. She is a bookworm and has been known to read her kindle at stop lights, while styling her hair, cleaning, walking, during sporting events, and frequently while pretending to work.
She is a boring attorney by day, and an exciting smut author by night!
Other reviews featuring Vi Keeland
Life on Stage series
Throb
#1
Other reviews featuring Vi Keeland & Penelope Ward
Cocky Bastard