The conclusion to Cleo and Kill's story has now been released. It was a great ending, and I hope you try this dark romance for yourself!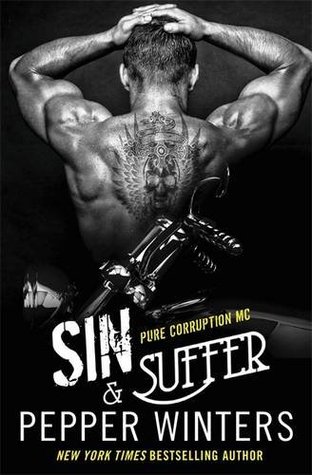 Series: Pure Corruption MC #2
Genre: Dark Contemporary Romance
Published: January 26th 2016
"Some say the past is in the past. That vengeance will hurt both innocent and guilty. I never believed those lies. Once my lust for revenge is sated, I'll say goodbye to hatred. I'll find a new beginning."

SIN & SUFFER

She came from a past Arthur "Kill" Killian never forgot. She made him sin and made him suffer. She tugged him from the shadows and showed him he wasn't as dead as he thought. And with her resurrection came betrayal, deceit, and war.

But then they took her. Stole her. Imprisoned her.

Now Kill's carefully laid plans for vengeance are complete. He craves action, retribution-the blood of his enemies. War has begun. War is all they'll know until they've paid their penance. He will get her back-and rewrite their destiny . . .
I read Ruin & Rule back in June and have been dying to read
Sin & Suffer
to continue the story after the cliffhanger in the first book. I think it's necessary to read the first book before jumping into this one because so much happens in the first book that sets up events that occur in the second book.
Sin & Suffer
begins with Cleo and Kill in situations out of their control. Cleo is determined to be strong and not allow her past and those old fears get to her. She is stronger now that Kill has come back into her life again. Kill will not allow Cleo to leave her again and does everything he can to get her back by his side. He has plans that have taken years to set right and is determined to see them through.
There were a few tough moments while reading this book. I hoped for a big showdown when Kill and Cleo had to face Rubix and the Dagger Rose MC. While it was fast and made a big impact on my heart, it didn't go down like I hoped. I wanted them all to get the revenge and closure they all needed, but I could see why it was done the way it was. The series story arc was what it was all about… the end game which they were all aiming for. I liked how it all played out and what they it meant for everyone involved.
I think that Pepper Winters did a great job delivering Cleo and Kill's story. They are a fierce couple and have lived the horrors and survived. They have strong hearts and can forgive when others wouldn't. They worked hard to get their lives on track and were devoted to one another. I didn't like how Kill kept so much from Cleo, but he was afraid and wanted to protect Cleo because he failed her once before. Sin & Suffer was a fitting ending to the duology, and I hope there are more stories from this world in the future, because there are a few characters that I'd like to see get their very own HEA!
Complimentary copy provided by the Publisher, via NetGalley in exchange for an honest review.
I loved this kiss... a little dominating, but the sexual tension between them was intense!

"Come here."
She obeyed.
We met in the middle of the carpet. We stared but didn't touch.
We breathed but didn't speak. The tension sprung tighter until the hairs on the back of my neck stood up with need.
We were so close, but still so far apart.
"Goddammit, come closer." I grabbed her around the nape and smashed my lips to hers. The moment I touched her, the world incinerated.

Kindle Arc Loc 6716



Hosted by MizB of

A Daily Rhythm
Pepper Winters is a New York Times, Wall Street Journal, and USA
Today International Bestseller. She loves romance, star-crossed lovers, and the forbidden taboo. She strives to write a story that makes the reader crave what they shouldn't, and delivers tales with complex plots and unforgettable characters.

After chasing her dreams to become a full-time writer, Pepper has earned recognition with awards for best Dark Romance, best BDSM Series, and best Hero. She's an #1 iBooks bestseller, along with #1 in Erotic Romance, Romantic Suspense, Contemporary, and Erotica Thriller. She's also honoured to wear the IndieReader Badge for being a Top 10 Indie Bestseller.

After releasing two books with Grand Central, Hachette (Ruin & Rule and Sin & Suffer) Pepper is a Hybrid Author of both Traditional and Self-published work.

Represented by Trident Media, her books have garnered foreign interest and are currently being translated into numerous languages, including already released titles in Italian and Turkish. Audio Books for her entire back-list will be available in 2016.
Other reviews featuring Pepper Winters