I decided to pick up Live Out Loud to read my first Marie Meyer novel. It was a pretty enjoyable read, and I'm sure I'll be reading more from her in the future.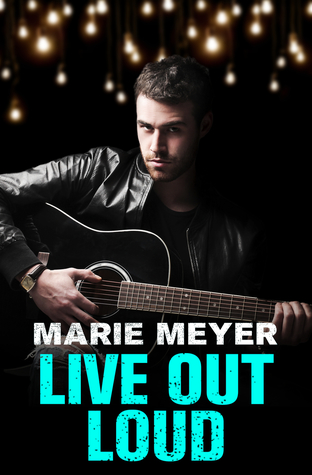 I thought I'd live in silence forever . . . and then I met him.

I'll never be able to hear, but music has always been a source of comfort for me. Rather than listen to the rhythm, I can actually feel the beat pulsing through me. It's pure bliss. So the moment I saw Thorin playing his guitar, I was mesmerized. I'd never seen anything more beautiful . . . or intimate. I couldn't tell where his body ended and the song began. He's everything I need in my life . . . I'm falling fast, hard, and deep.

I want him more than anything. But while I live in silence, Thor lives in secrets. He's holding something back-something that's keeping this intensity, this longing from being real. And the silence may be too loud to bear . . .
Marie Meyer is a new to me author, and when I stumbled upon her book I had to give it a try. I really enjoy stories where the characters have to work hard because of the communication barrier between them. Thorin had a passion for writing and making music and their connection grew as Harper could feel it through the beats of his music.
I loved they way that Thor went out of his way to prove how sincere he was at beginning a relationship with Harper. He wanted to learn how to communicate with her, by learning her language. Difficult issues with his own family held him back a little, and he felt unworthy and determined that his relationship with Harper was only temporary.
Harper had never felt so accepted before, even by her own parents! She never expected a guy like Thor to see HER for the girl that she was. The more time they spent together, the easier it was for Harper to let Thor in, especially because he tried hard to make her feel normal.
I felt that this book didn't have the full impact that I hoped it would have. I missed a crucial moment between Thor and Harper in the beginning, right before their first date. Those moments when a relationship is first beginning are important to me as a reader. I was sick of Harper addressing Thor by his full name over and over! Thorin Kline this and that, just Thor would've been ok. I was happy that Harper's relationship with her parents healed throughout the story, and that she had such a great friendship with her best friend Chloe. Overall, it was a sweet story of two people from different worlds that began a relationship, and a journey of a lifetime together.
Complimentary copy provided by the Publisher, via NetGalley in exchange for an honest review.
*** Swoon Thursday was first bought to us by YA Bound. Since they are no longer with us, and with permission from Trisha Wolfe, I have decided that those of us that love to swoon need a central meet up point. So here it is ladies! I have a link up for everyone at the bottom of the post you can add your swoons to, and I'll set it up every week! So tell all other swooners out there to come on over, link up so we can visit each other! *** I have a few moments here that made my heart pitter-patter a little bit. I loved the passion that these two had for one another!

She licks her lips and that's it, I can't take it anymore. I need to fucking kiss her.

Kindle Arc Loc 838

His shoulders slump and he writes more. Because when I kiss you, I feel it right here. He beats his fist against his chest, right over his heart. And that scares the shit out of me, he adds to the page.

Kindle Arc Loc 1201

Thor and I are so different. Tattoos and freckled porcelain. Hearing and deaf. But, when we're together, the lines blur. Ink gets smeared all over the glass, and the contrast fades. We're one. Without even a word, we know what the other needs. We reside in the other's universe and understand.

Kindle Arc Loc 2973


Originally inspired by

YA Bound
Marie Meyer has been a teacher for sixteen years.
She spends her days in the classroom and her nights writing heartfelt romances that will leave readers clamoring for more. She is a member RWA (PAN) and a 2017 RITA® Finalist. Marie's short fiction won honorable mentions from the St. Louis Writers Guild in 2010 and 2011. She is a proud mommy and enjoys helping her oldest daughter train for the Special Olympics, making up silly stories with her youngest daughter, and bingeing on weeks of DVR'd television shows with her husband.
Would you like me to add the link up code to this post, so you can add it to your own posts?